hydrangea
Macrophylla – Paniculata – Arborescens – Quercifolia – Petiolaris – Serrata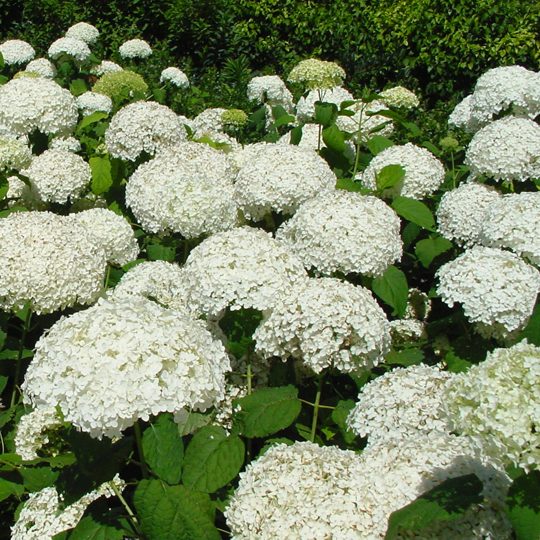 There are many choices and varieties of these popular shrubs (see below). They come in a wide variety of colors and patterns. They are best planted in early spring or fall to ensure their shallow root system has enough time to establish. Hydrangeas should be planted in a good, well-drained soil. Ensure they always have plenty of water to drink especially during the scorching hot summer days.
Average height: 3′ – 8′
Width: 4′ – 6′
Watering and soil: Moist, well drained.
Exposure: Full sun to part shade.
Varieties: Annabelle, Bobo, Endless Summer, Fire Lite, Incrediball, Quick Fire, Little Lime, Moonrock, Strawberry Sundae, Zinfin Doll, Blue Jangles Let's Dance, Paris Rapa, Invincibelle Wee White, L. A. Dreamin', Big Band Let's Dance, Can Do Let's Dance, Rave Let's Dance.
Image: Hydrangea arborescens 'Annabelle'
Arborescens Incrediball Blush
Arboresecns Invincibelle Limetta
Arborescens Invincibelle Ruby
Arborescens Invincibelle Spirit II
Arborescens Invincibelle Wee White
Macrophylla Endless Summer Bloomstruck
Macrophylla Endless Summer Blushing Bride
Macrophylla Endless Summer Summer Crush
Macrophylla Endless Summer The Original
Macrophylla Endless Summer Twist-n-Shout
Macrophylla Let's Dance Big Easy
Macrophylla Let's Dance Rhythmic Blue
Paniculata Fire Light Tidbit
Paniculata Limelight Prime
Paniculata Little Lime Punch
Paniculata Little Quick Fire
Paniculata Quick Fire Fab
Paniculata Strawberry Sundae
Paniculata Vanilla Strawberry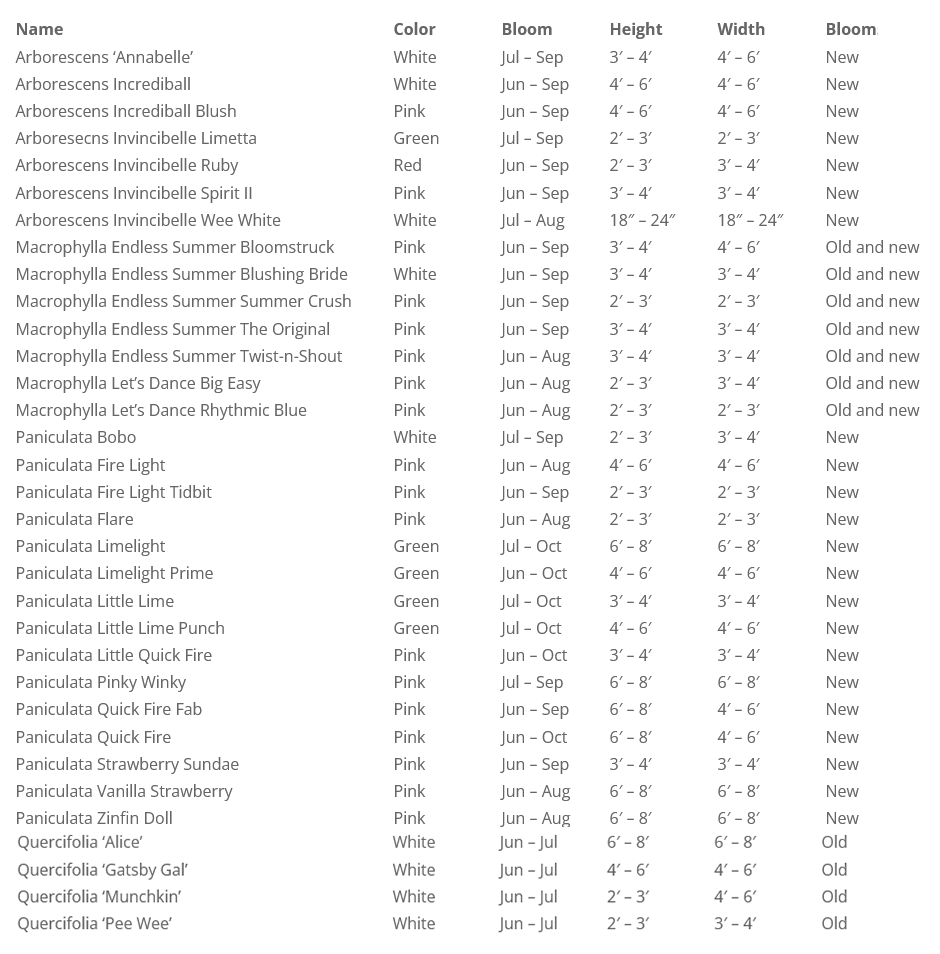 Six Main Hydrangea Types
There are six main hydrangea types: macrophylla, paniculata, arborescens, quercifolia, petiolaris and serrata.
Hydrangea macrophylla (bigleaf hydrangea)

This hydrangea is the most common. This large leaf hydrangea variety will bloom on old and new wood. One of the most popular are the Endless Summer varieties – Endless Summer is in reference to an early season and late season bloom. The colors of the blooms are usually blue or pink depending on soil alkalinity. If you want blue blooms, you would need to add an acidic supplement like aluminum sulphate to your soil.  Pink blooms are indicative of a more alkaline soil.
These will be happy with some afternoon shade protected from the harsh summer sun.
Macrophylla can be broken down into three sub categories:
Mophead – the large rounded blooms which are really colorful sepals, are sterile.
Lacecap – these are identical to mopheads except for the center which consists of tiny fertile flowers. The large sepals ("flowers") around the edge are sterile.
Hydrangea paniculata (panicle hydrangea)

Paniculata have smaller, thinner, finely toothed leaves, and are extremely hardy – easily surviving zone 3 conditions. Their large cone-shaped flower heads are unmistakable. The colors range from green, to a combination of pastel whites and reds which change through the growing season.
These hydrangeas can be grown as small trees from a strong developed central stem.
Hydrangea arborescens (smooth hydrangea)
These are sometimes called wild hydrangeas and are native to the United States. The matte leaves are generally heart shaped and we often see these planted as hedges due to their suitable size. Annabelle and Incrediball are two popular varieties.
The large round, white sterile flowers are unmistakable; growing so large that often they need staking.
Hydrangea quercifolia (oakleaf hydrangea)
Their large oak shaped leaf makes these easy to identify by their common name. These beautiful hydrangeas change color in the fall. Expect to see hues of orange to red leaves. They tolerate some light shade and will do best in sunny conditions. Typically their flowers are like the lacecap.
Hydrangea petiolaris (climbing hydrangea)
These hydrangeas are vines and are native to Asia. They are slow growers and look beautiful climbing up structures – well worth the wait! They can eventually grow to 30 feet and more.
Hydrangea serrata (mountain hydrangea)
Mountain hydrangeas are similar to bigleaf hydrangeas, but they are smaller and have more delicate flowers. They are also more cold-hardy than bigleaf hydrangeas.
Hydrangea arborescens
Typical of the profusion of showy infertile arborescens sepals.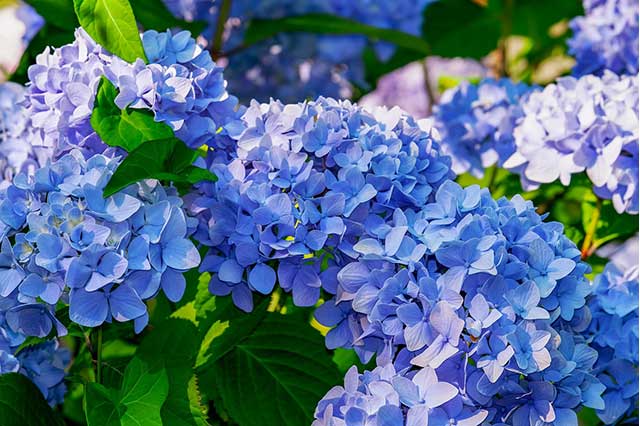 Hydrangea macrophylla – mophead
These macrophylla sepals have an adequate acidic PH level – about 5.5 or less to make them blue.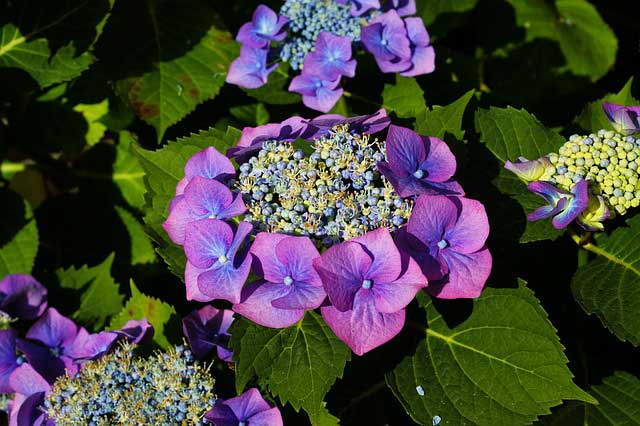 Hydrangea macrophylla – lacecap
The difference between the small fertile hydrangea flowers and colorful infertile large sepals can be seen on this lacecap.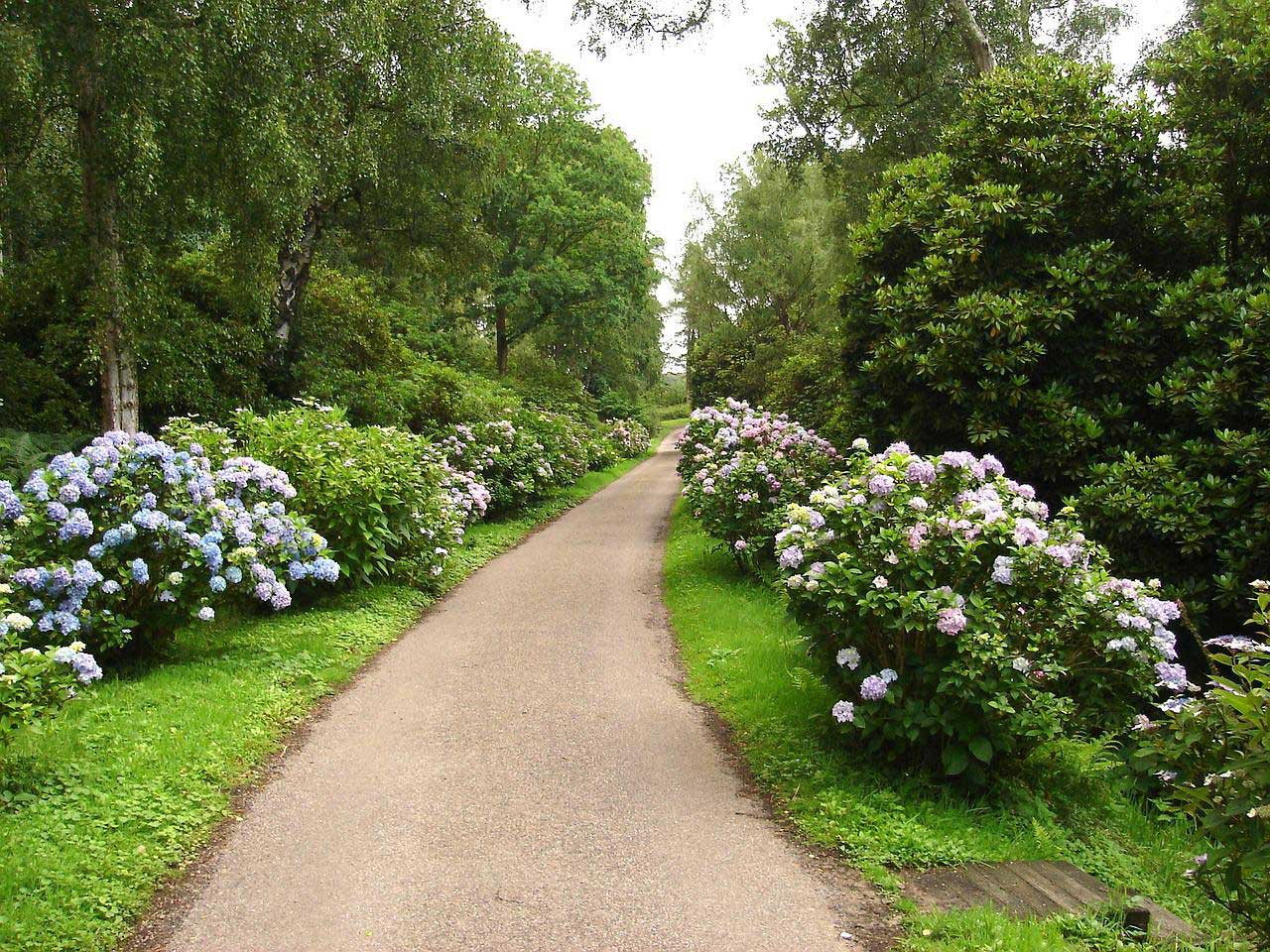 Hydrangea macrophylla brings interest to this pathway edge.
Category: Sun Perennials – Sun Plants – Sunny Plants – Shrubs – Deciduous Shrubs – Hydrangea near me