cornus pagoda dogwood
Cornus Alternifolia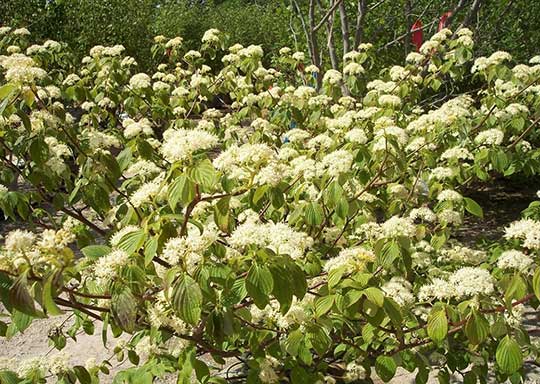 Cornus pagoda dogwood is an excellent dogwood specimen for partial, open shady areas. These smaller, lower branched trees, grow in open irregular tier format giving a somewhat horizontal shape. It's a hardy variety and has fragrant yellowish-white flowers. Dark berries follow to provide winter interest.
These ornamental trees are understory in their native zones hence a dappled shade location is best.
Height: 15′ – 20′
Width: 15′ – 20′
Exposure: Sun (4 hours minimum) to part or dappled shade.
Fruit / Flower: Drupe blue-black berry .5″. Yellow-white flattened clump flowers.
Fall Color: Yellow to red purple.
Water: Water needs are average requiring 1 inch of water per week in the form of rainfall or manual watering. It is a hardy ornamental tree.
Fertilizer: Use a general slow release fertilizer in early spring though this isn't really required. Mulching over the root zone is useful.
Pruning: Prune lightly in dormancy to keep in shape and form.
Category: Trees – Pagoda Dogwood near me – Cornus Alternifolia